COMPANIES HOUSE: BE AWARE OF FAKE EMAILS AND SCAMS
17th August 2017
Identity theft and online fraud is increasing in every avenue of the digital world, including among those organisations and individuals linked to UK business set-up and trading. Companies House is no exception to this and has been the target of a number of email scams and fraudulent communications to members of its database.
Indeed, CIFAS, the organisation behind the National Fraud database, has released research findings that suggest company directors are more than twice as likely to be victims of identity theft than other members of the public. This heightened risk may simply be due the increased online visibility of personal information relating to Company Directors, with Director names, addresses and dates of birth generally freely available to the public.
If you are a company director, then you should make yourself aware of the latest scams of which you could be a target. With presentation and delivery methods becoming increasingly sophisticated, it is important to be able to recognise the latest tricks to ensure that you don't fall victim.
Some of the latest scams being sent out fraudulently under the guise of Companies House.
1. Requests for payment to register a company
If you receive a request for money to register your company on any of the following registers, regardless of how "urgent" or "threatening" the communication may be, do not act, as this is a fraudulent request. This scam often takes place soon after businesses have registered with Companies House and could be in the form of a letter or email. The letter will often claim that the recipient is required to "pay a fee to confirm their registration" and "lack of payment will result in lack of your company's entry in regist.co.uk" with the requested payment usually around £200.
New Companies Register
Digital Companies Register
National Register of Companies
Economic Index for Europe
Register of Companies and Businesses
Scottish Commercial Register (publication of companies)
Welsh Commercial Register
e-public.co.uk Company Register
co.uk
2. Late filing penalty
If anyone calls purporting to be taking a payment of £5 to cancel further action related to late filing then this should be treated as a scam.  Telephone calls with regards to filing payments is not a recognised activity of Companies' House, and you should identify this as a fraudulent call.
3. Investigations and Enforcement Services emails
If you receive an email from the 'Investigations and Enforcement Services at Companies House', such as that shown below, do not open it, respond to it or forward it, as it commonly contains malware that will infect your computer.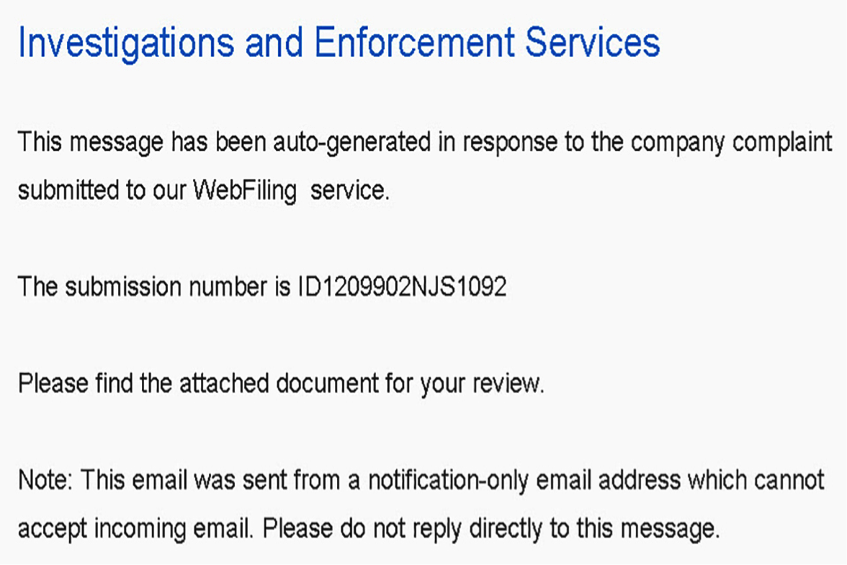 In particular, look out for any of the following fake email stems:
@companieshouse.me.uk
@companies-house.me.uk
@companieshouses.com
@companieshouses.co.uk
@companieshousecomplaint.co.uk
@companieshousecomplaints.co.uk
@companieshouseemail.co.uk
@companieshousesecure.co.uk
@cp-securemessage.co.uk
4. Bogus 'Document Order' emails
Genuine 'Document Order' emails contain your company name and number under an 'Order detail' heading, and a reference to the attached PDF of company information, and are only produced when a copy of current company information is requested from within the Companies' House online filing service.
The bogus variations of these emails don't contain this individual company information, and the attachment often isn't in a PDF format. Be aware to look for these small differences. 
5. Bogus online filing submission emails
Look out for "Case C3219102". This bogus email claims to be a response to an online filing submission but it is a scam.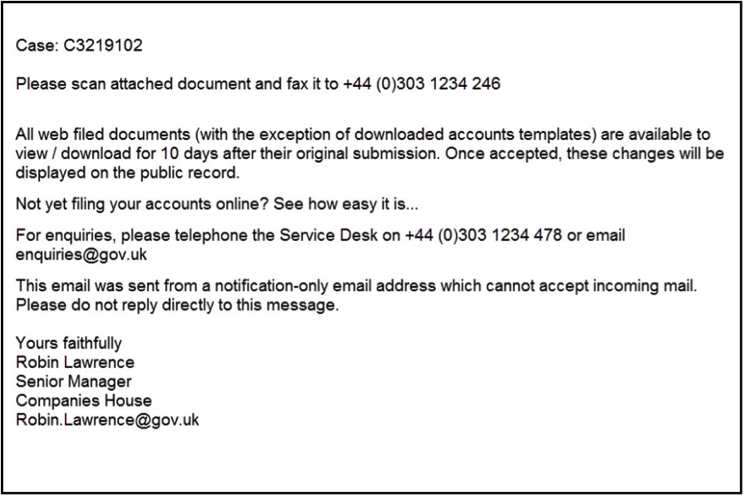 6. Bogus email claiming to be from Companies House
If you see the following wording, be aware that this is a fraudulent email and do not open any attachments.
"Thank you for completing a submission Reference # (0516538). Check attachment to confirm acceptance or rejection of this filing"
Emails from Companies House will always say in the body of an email whether your submission has been accepted or rejected.
7. Bogus eReminder requests for accounts
In addition to often showing an incorrect due date, these fake reminders to submit accounts often contain the text:
"Please find information in the following link regarding your Company's annual accounts."
Don't click this link, as it transfers you to "118enquiries.com" and downloads a zip-file onto your device.
8. Bogus requests to verify your Companies House password
Any email asking you to validate your Companies House email address and password should be treated as suspicious. Unless you have specifically just requested a reset of your password or forgotten email, it is likely a bogus email.
Check the links on any emails, including these ones, go to a .gov.uk address. For example any request for a password reset for Companies House online filing system will have an address that starts ewf.companieshouse.gov.uk
If you see the below web page, don't enter any details or click any links or buttons, it is a bogus web page.
9. Telephone scam warning
Companies House will never contact you by telephone to find out secure information or details about your officers.
If you receive a call from anyone claiming to be from Companies House, requesting information about Company Directors or advising that there is a discrepancy with information held on the register, try to obtain a return telephone number and inform Companies House on 0303 1234 500.